Parksville Station takes the stage providing high energy classic rock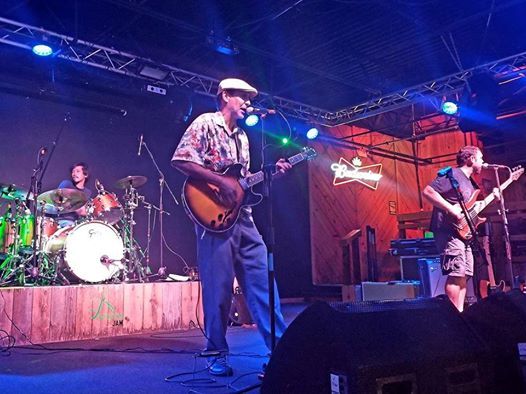 With so many music genres available today, Parksville Station remains focused on just playing and writing good music. "It was always hard to answer the question in the beginning as to what kind of music did we play, I mean, yeah, we are a "rock" band, but we just play whatever suits us and let the fans discover on their own what we are about. We now just keep it simple and say 'rock-n-roll' " says David Smith on how Parksville Station defines their music. Playing outside during the summer time in the hot and extremely humid Southeastern US, Parksville Station has developed a ruggedness that endures. This ruggedness has tightened the bonds that the bandmates all share and is heard in the tightness of the trio.
"When people jam as long as we have jammed together, there's a unique sound that comes with it, especially if there has been trial and tribulation along the way....and we have that. We've been through that. We all grew up here in rural, southern small towns. There were very limited opportunities to see or hear live rock-n-roll being played. Everyone that played was playing country music or beach music or blue grass. And there was plenty of gospel music, and all of that was great, I'm not knocking it at all, I use those influences in my own songwriting, so I'm not knocking it, I'm just saying we all were not into the music that was popular here in our region in our youth. So, putting together a band and maintaining that band, it's a different kind of struggle that we have had, from not only finding places to play where we could actually earn money, but having to play to crowds that were expecting shag music or "the ol' two step", to sweating our behinds off soaking our instruments, our bodies cramping up, eyes burning while you're trying to play... just miserable. But when that one person comes up and makes it a point to personally tell you that they really appreciated what we are doing and that it really made an impact on them, that's the payoff, when someone 'get's it'. That pulls you through to the next (David Smith, Parksville Station) The future for Parksville Station looks bright as the 2019 summer approaches. With gigs already booked and a new collection of songs soon to be released, they look forward to meeting new fans and going to new places.
The band was featured in recently released Lifoti's June 2019 influencer issue, you can check it from below link's for your country: