Northern Borne an eclectic mix of bluegrass and folk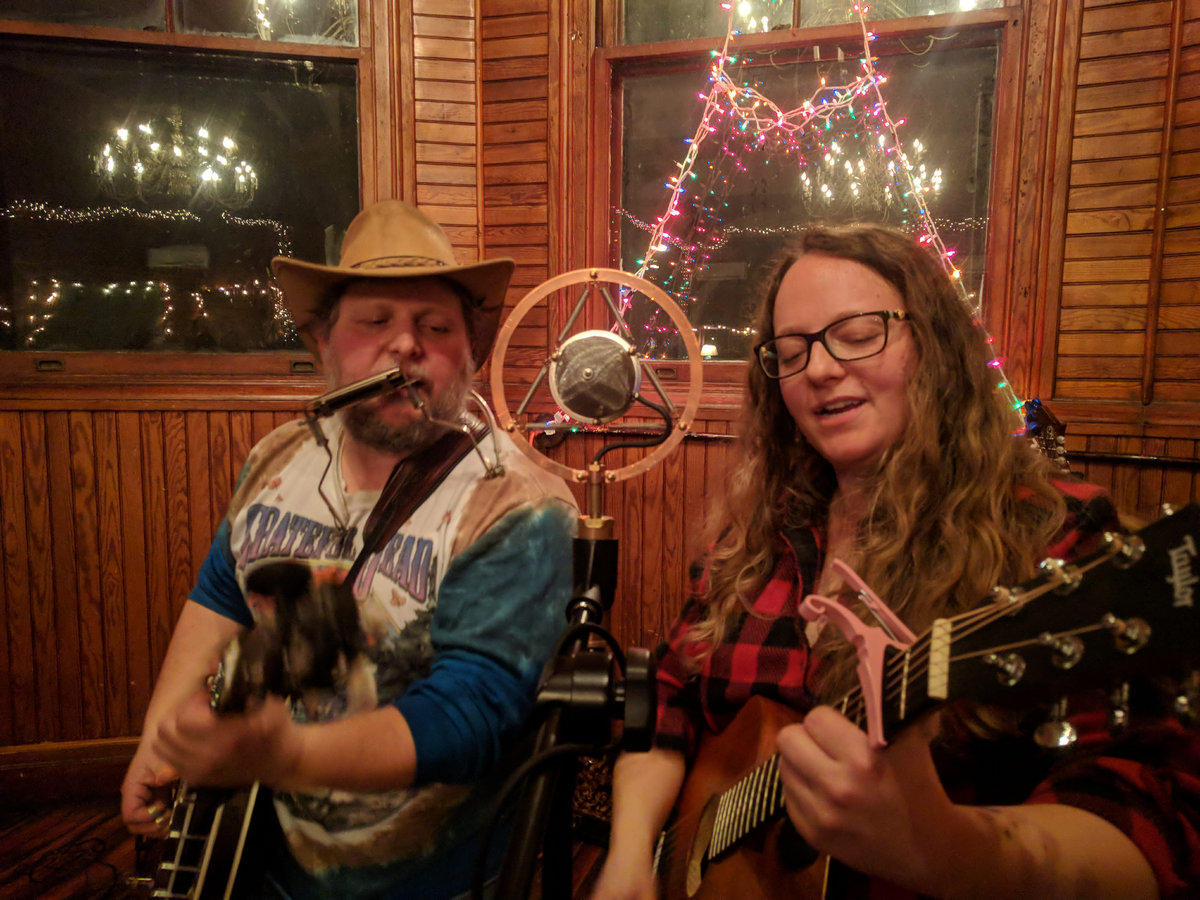 Originating in the Adirondack Mountains in upstate New York and currently hailing from Washington County, N.Y. Northern Borne is a duo comprised of Sarah Babushkin (mandolin, guitar, lead vocals) and John Wensley (Banjo, Dobro). They formed as a duo in 2017 and instantly clicked musically often composing songs together as if their minds were one. Northern Borne is an eclectic mix of bluegrass and folk with a hint of jam band and blues thrown in for an old-timey groove sound. Sarah's soulful voice and hard pounding rhythm playing mixed with John's sometimes melodic, sometimes bluesy, sometimes bluegrass banjo style coupled with his emotional ladened dobro playing makes this duo's sound both unique and intriguing. Their music can drive down the track like a train or take you on a trip back in time. Their music does reflect the region in which they are from, but it is often said to have a very Appalachian feel to it as well. Perhaps this is due to some of their many influences like Doc Watson, Doc Boggs, and Clarence Ashley. But the music they play have so much more influences from many genres. They draw from the likes of BB King, Gillian Welch, Flatt and Scruggs, Grateful Dead, and even Pink Floyd, just a name a few.
Writing music is often inspired by folks like John Prine, Townes Van Zandt, and Guy Clark, all of these influences can be heard in Northern Borne's music. Originals are derived from local experiences and often have a storytelling feel, while traditional songs take an edgy twist. Their songs often take you to another time such as their original song "Dessert Hideaway", this tune takes you back to the train robbing days of the old west but with a love story twist. They incorporate home town story telling such as in their song "Adirondack Cowboy". A story about one of the last cowboys who ran a dude ranch in the Adirondack Mountains. The region was filled with more than 30 ranches around the mid 1950's. For a bunch of Yankees, you might be surprised by how successfully Adirondackers have captured America's wild western spirit, with a 90-year history of dude ranches and recurring rodeos throughout the Adirondack Park designed to encapsulate the romantic cowboy spirit that defined that era in American history. They can write in a more modern feel as well. The song "Dark to Dawn" deals with the despair of a lover who is left alone and has no idea why, or at least can't come to grips to why. This particular song has a haunting dark feel to it. In this song Northern Borne covers a lot of ground, Sarah makes the listener feel the emotion as the words drip from her lips with some just as emotional dobro backing her and creating a wave of feelings. They can get spiritual as well one example of this is a song penned by Sarah "Hollow Wings." Northern Borne performs a handful of traditional songs with a breath of modernization added into the mix. Their take on the classics "Shady Grove" and "Darling Cory" are performed in a way that makes this duo a new timey folk duo but holds an old timey feel to it as well.
Northern Borne is currently working on their first CD and are expecting for a 2019 late summer/early fall release. They are quickly becoming a hit regionally, landing some cool shows in theaters such as Dorn Space in Gloversville, N.Y., Hangar on the Hudson Troy NY, and the Strand Theater in Glens Falls, NY. They have been well received in the regional Craft Brewery Circuit. Northern Borne has performed in Nashville during the Tin Pan South Songwriters Festival in 2018 and at the Folk Alliance International Conference in Montreal in 2019 where they were invited as new emerging artist. They have performed in the legendary Café Lena in Saratoga NY, a place made famous by the likes of Bob Dylan, Tom Paxton, Emmylou Harris, Arlo Guthrie, and Ani Difranco, just to name a few. Northern Borne is planning an East Coast tour to support the release of their CD in early 2020 and hope to expand on that in the summer nationally.
The duo was featured in recently released Lifoti's June 2019 influencer issue, you can check it from below link's for your country: