Andrea Vettoretti Has Liberated the Classical Guitar.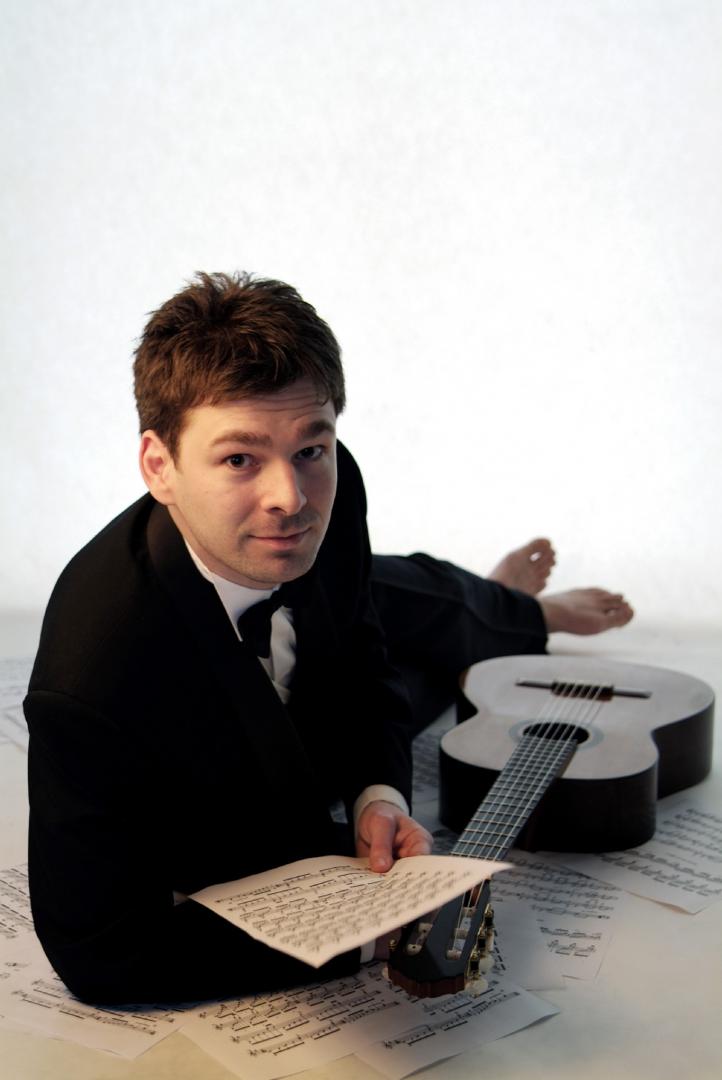 Guitarist Andrea Vettoretti has liberated the classical guitar. This instrument, too often linked to the Spanish or purely classical tradition, has been refashioned by Vettoretti into a new form. One does not only listen to a musician of great talent and instrumental elegance, but the audience also becomes captivated by the originality of his music that merges into a unique style. The charm of his original style is the fusion of a sound both enchanting and warm, a sound that one cannot miss. A polished musician who expresses himself with a language both cultured and emotional, connecting classical music with many other genres. As Andrea Vettoretti says:
"I like to experiment, searching for new paths that lead to a synthesis, even if the journey is long. I am passionate about the depth and complexity of classical music and I love the simplicity of other genres and the power they can communicate."
Vettoretti obtained his music diploma with full marks from the "G. Rossini" Conservatory of Fermo and then continued his studies at the prestigious "Ecole Normale de Music" in Paris under the guidance of Alberto Ponce, where after only two years he gained the "Diplome Supérieur de Execution" and the "Diplome Supérieur de Concertiste". He has won 13 international music competitions. Concerts by Andrea Vettoretti are accompanied by choreographed light and effects which follow the music, interpreting it in a poetic, passionate and elegant way. He has played many concerts and international tours, from the Queen Elizabeth Hall in London, to the Salle Cortot in Paris, stopping in metropolitan cities, among them Rome, Berlin, Dublin, Valencia, Mexico City, Miami and Sydney. He has recorded 10 CDs for various recording companies. Vettoretti's music can be heard on streaming stores. His CD RAIN, published by CNI Unite, represents a bridge between the depth of the classic style and the new music of Andrea Vettoretti. The new album Wonderland, with his original music is inspired by the fantasy world of Alice in Wonderland, published by CNI. His music has been used by the director Davide Del Degan (selected for the Cannes Festival in 2016) in his short films and in the official video Sensations, winner of the Akademia Music Award. Andrea Vettoretti is sponsor and ambassador of a musical education program for children from the Santa Eulalia Valley in Peru, known as Musicare. He plays with Savarez Alliance Cantiga strings on guitars by Matthias Dammann and Enzo Guido. Lets check out some Q&A with him
WHAT HAS BEEN YOUR PATH TO BECOME A GUITARIST COMPOSER?
I studied in an Italian conservatory and then at the Ecole Normale di Musique in Paris. In the classical music world I am seen as a nonconformist because I have introduced novelties such as the care towards the show or to play standing up , not usually done in the very traditional classic music world. I have realised a form of spectator involment which is not usually done in my sector. I have therefore created a new gender which I called "New Classical World" , a new way to perform classical music which I have drawn on from all of my experiences during my travels and meetings round the world. With my way of composing I like to experiment , try new ways which even after long journies , bring a synthesis.
DID YOU START OFF AS A GUITARIST WHO PERFORMED CLASSICAL MUSIC?
Certainly, and it's been a long journey. Then to follow I worked with many composers such as Grammy Award winner Andrew York , who participated in my previous album "Rain " together with 8 excellent composers. The "Italian Coffe" album and "Rain " have been steps towards Wonderland, the first album totally dedicated with my compositions.
HOW DID YOUR LAST ALBUM WONDERLAND SEE THE LIGHT ?
Wonderland was a chance happening. I was given the Alice in Wonderland book . It was a discovery, a new vision; the message in the story was an enlightenment , the apparent chaos was a road putting everything back into place. As a consequence I made a decision to interpret, with music, the book's characters and sensations. I have to admit that creating a musical story, easy to follow in it's complexity, allowed me to find a new dimension. I left the traditional frames and with classical instruments such as guitar, cello and percussion during the live performances I endevoured to build new emotions and sound The Wonderland album is proof of a work in progress show, best seen in the Live which can be seen on Youtube or on my website. For those wishing to listen to my music it can be done on Spotify and iTunes, however Wonderland is available on Vinyl or CD published by CNI Music.
HOW MUCH TIME DOES IT TAKE TO STRUCTURE SUCH A PROJECT ?
To realise the album and the show, a couple of years. I started with the compositions and then the many parts which define the completed project. The collaborations for instance arrive during work in progress and then get developed.
HAVE YOU EVER HAD ANY DOUBTS?
Yes, almost every day, but the desire to continue, and the passion push my musical pathway, and the knowledge that I have done everything possible to achieve the maximum result. During the show , while on stage, I focus on one person, not to exclude others but that person becomes my reference point and mirrors the emotions evoked by music to others as well. At times I play for that person, at times for all spectators.
HOW CAN WE FOLLOW YOU?
ANY NEWS FOR THE NEAR FUTURE?
I am working on an album dedicated to the universe which will be released in 2020 . With this work I would like to make as many people as possible aware of the safeguarding of our planet, a challenge for all of us and the future of earth's inhabitants.
Though he was featured in recently released Lifoti's June 2019 influencer issue, you can check it from below link's for your country: