The Making of 'Sonic Sunrise'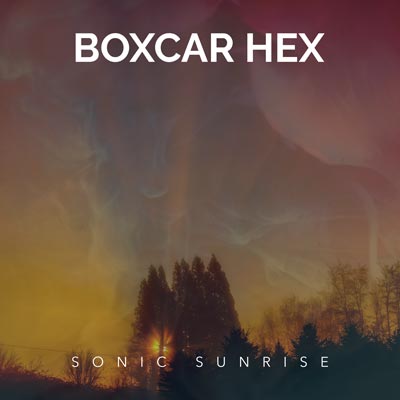 Boxcar Hex to Release His First Solo Album
"It's just down here," he says.
He leads the way down a set of loud, wooden stairs as I wonder if I will ever see the light of day again. He is taking me to his recording studio. But what I see when I hit the cement floor is not what most would call a 'state of the art' facility. No leather couches. No sound booths. No slick mixing desks.
This is a plain basement.
As if feeling my surprise and discomfort he looks to me and smiles. "This is where the magic happens." His arms outstretch to a variety of keyboards, guitars, amplifiers and cords. Boxcar Hex is welcoming me to Doctor Tarkin Headquarters.
I've written the majority of my music down here for the last decade. Good and bad. Forgettable. Catchy. A couple hundred songs.
The latest from Boxcar Hex, 'Sonic Sunrise', his first full length solo record, is set to release on May 18th and he cannot wait to tell me all about it. "I wanted to bring the listeners into the creative process. The only way I knew to do that was for people to hear the songs as I was writing at them. Hear them as I was hearing them. As little separation from ideation to recording as possible. I think we got very close."
Boxcar had three main challenges in recording 'Sonic Sunrise' that he set for himself. "I had to use only what I had on hand. No new gear. At times that was a challenge but it makes you work smarter. You have to figure out how to capture what you are looking for and not always with the materials you need. I figure The Beatles recorded with four tracks. In comparison, I had it easy. I had eight.


"I also wanted to be sure the album was no more than twelve tracks (Note: he settled at thirteen) and in total it couldn't be longer than forty-four minutes. Mainly because as a listener I lose interest after twelve tracks. And, in my tape dubbing days, an album longer than 45 minutes could not fit on one side of a ninety minute tape. I always got ticked me off when you got a fifty minute album.
My last challenge was to create an actual, traditional album. I wanted to be sure I approached it as something that has two sides, so that each side has a start and a finish. When I had my songs together, I tried to place them like a puzzle. I looked back to albums I love to see how they managed this - 'Back in Black', 'Achtung Baby', 'Dark Side of the Moon'. Every song has a place and every song belongs with the other tracks. That was really important to me because I feel this has been lost with CD's and digital distribution.
To that point, Boxcar Hex actually has a track where he simulates the listener needing to switch the side of the album. "This was a nod to Tom Petty on 'Full Moon Fever'. He has a track where he says the CD listeners need to hold up so the tape and vinyl listeners can catch up and get to the other side."
Even the release date has meaning to Hex. "It's really two-fold. May 18th . It's the day Chris Cornell left us. And the last track on the album ('52') is something I wrote the day after he passed away. Also, as the next day is my birthday, this will most likely be the last big thing I do before I turn forty-five."
In our time together, I absolutely got the vibe that this release is extremely important to Hex. He has released many tracks and EP's over the years but 'Sonic Sunrise' is a turning point for him. "It represents a journey from folk artist to me embracing forms that have always been of interest to me but never really found their way into my songwriting. I've been my own worst enemy in pushing me into the 'folk/singer-songwriter' genre when that was not fully me. It certainly is a piece of it, but 'Sonic Sunrise' gives more of the picture. It's a really important release to me because I am revealing more than I have previously."
He credits a rediscovery of The Stone Roses, Big Audio Dynamite and similar artists as influences in his sound expansion. "It made me think more about tempo, rhythm. Can you dance to it? I wanted to play to percussion as opposed to playing along with it. The songs changed as a result. I put some out there, and got a good response. But I was still apprehensive about the whole thing until, I saw Bob Mould., Seeing him live brought me right back to who I was when I first heard him decades ago. I knew that I could take that same journey, it was okay to change. You can evolve and you still can end up being you. That's important. I even do a Husker Du song on the record (Note: it's one of Grant Hart's songs). You get a bit of it all on here.
One of the best things about this record is that I went back home in a sense. The album cover is a photograph by Drew Torrente who I know from all the way back to sixth grade homeroom. I also use some of the poems of Christian Reynolds who I also know from middle school. I didn't want Ridgewood (New Jersey) to think I forgot about her.
We finish the tour of the studio pretty quickly. There is not a lot to see. And that speaks to the uniqueness of 'Sonic Sunrise'. Thirteen tracks with no filler. Much like the studio it was recorded in. Much like Boxcar Hex himself.
'Sonic Sunrise' will be available on May 18th on all major digital distributors.